Chris Brown has joined most of Osun as well as members of Davido's 30 BG gang to celebrate the election win of his uncle Senator Ademola Adeleke. More on this
below.
American singer and frequent Afrobeats collaborator, Chris Brown has joined Davido and his 30BG gang as well as Osun citizens to celebrate the governorship win of Davido's uncle, Senator Ademola Adeleke.
The singer made his support known by reacting to the win with heart and lightbulb emojis on an Instagram story post of the senator.
Davido has since responded to Chris Brown's post with an effusive repost on his Instagram page, expressing his love for the singer who he addressed as 'brother.'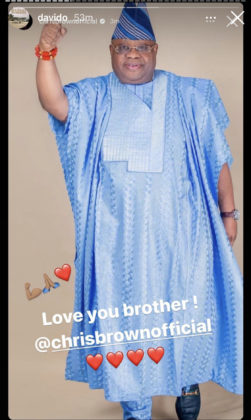 Davido and Chris Brown are frequent collaborators and this follows their latest release on Nobody Has To Know off Chris Brown's 10th studio album, Breezy